Usually, shoes aren't the first thing that comes to mind when you picture an ensemble featuring a kilt. This makes sense because a kilt's vivid colors would catch your attention right away, but it doesn't imply the shoes are any less important. Your shoes are the last piece of clothing you wear when wearing a kilt. They give your ensemble a distinctive fashion element and merit more attention.
Your choice of footwear will be influenced by the event you're attending. Hiking boots or wellies are the finest options for wearing a kilt for an outdoor expedition; however, brogues are best if you're dressing up for a formal function.
The name "brogue" is derived from the Gaelic word for shoe, brog (Irish) or brog (Scottish). The early 16th century saw the creation of contemporary brogues, first used for outdoor strolling. Are you wondering what use the tiny holes with perforations on a brogue's sole serve? Though they are undoubtedly stylish now, their original purpose was to allow water to escape the shoes when walking on muddy or marshy surfaces. Historically, brogues were considered standard or working-class footwear inappropriate for formal events. But when it comes to the kilt look, brogues are the go-to choice.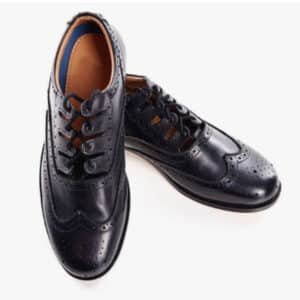 Ghillie Brogues Kilt Shoes Are The First Choice
When assembling your kilt-wearing ensemble, you can choose between two main types of brogues. The first option is Ghillie Brogues, which differ from other types of brogues in two important ways. First, the tongues on the ghillie brogues would have allowed them to dry quickly. Another distinction is that ghillie brogues have lengthy laces that are fastened below the calves and around the wearer's ankles. To protect them from the mud and filth, the laces are long. Ghillie brogues are regarded as the traditional type of footwear to wear with an outfit in a kilt and are a favorite for formal events like weddings and Ceilidhs.
The other option is Day Brogues, which are frequently referred to as Wingtips, especially in the United States, because of the shape of the W on top of the shoe cap. Day brogues have shorter tongues and laces, but they also include decorative perforations in the toe cap. Without a doubt, they fit for any situation. They're an excellent option for people who want the ease of wearing the brogues to any occasion and the simplicity of tying ordinary laces.
Scottish Attire Kilt Shoes Collection
Why Choose Scottish Attire?
You can wear exquisite shoes to match your kilt, but we recommend a wonderful pair of ghillie and day brogues. They come in a range of styles and styles, making it easy to choose a pair to match your clothing. A fantastic pair of adequately maintained brogues can last for a long time; hence, they're an excellent investment.
If you have any queries regarding our line of brogues, feel free to contact us at +1 (419) 351-1189 or email us at scottishattire@gmail.com.
Conclusion
When it comes to selecting shoes that match a kilt, there are many alternatives. Popular Scottish footwear that goes well with the traditional attire is Ghillie Brogues. The lengthy laces on these shoes wrap around the ankle, and they lack a tongue. They give a kilt a sense of refinement and authenticity. You can use loafers or leather dress shoes for a more laid-back style. They give off a refined appearance while being fashionable and comfy. To guarantee a chic and well-groomed ensemble when wearing a kilt, the final decision on footwear should be based on the occasion and style.
FAQs
How should I take care of Ghillie brogue shoes?
Regular maintenance is required to maintain your Ghillie Brogues's fine condition. Here are some maintenance pointers.
1. Use a gentle brush or towel to remove dirt.
2. To keep the leather supple, use leather conditioner or cleaning.
3. Store them somewhere cold and dry to avoid moisture damage.
4. If the laces are ragged or worn out, replace them.
5. You can pack wet shoes with newspapers and allow them to air dry away from heat sources.
Maintaining your Ghillie Brogue shoes' longevity and aesthetic appeal is possible with proper care.
How to tie Ghillie brogue shoes?
Ghillie Brogue shoes are laced distinctively. Start by pulling your shoelaces up to your ankle and crossing them over the top of the shoe. Bring the laces forward and cross them in front of your ankle. Embrace them around your lower legs. Create a bow or knot out of the laces. This method is essential for maintaining the shoe's classic appearance and ensuring optimum fit.
What type of shoes are best to wear with a kilt?
Kilt hose, or knee-high socks, paired with brogues, are the most traditional shoes to wear with a kilt. Brogues come in a range of designs and hues and are usually constructed of leather with ornamental holes. Boots, loafers, or dress shoes can also be appropriate, depending on the kilt's style and the occasion.
FAQs
Is it possible to wear boots under a kilt?
A stylish choice for your kilt could be to pair it with boots. This is particularly valid for informal or outside gatherings. Boots made of leather or tartan will give your ensemble a rugged look. Select supportive, cozy boots that are ankle or mid-calf in length. Verify that the color and pattern of your boots complement the kilt.
Can I wear dressy shoes with my kilts?
Kilts can be worn with dress shoes. This is particularly true if you're going for a more formal, sophisticated, or contemporary style. Kilt-appropriate shoes to choose from are Derbys or Oxfords. Select dress shoes that complement the color of your kilt, such as black or brown. Make sure the shoes you select have been thoroughly shined and are in outstanding shape for a polished appearance.
What shoes should I wear with a kilt if I am attending a formal event?
Dress shoes go well with a kilt if you're attending a formal event like a wedding or black-tie supper. Although black or brown leather dress shoes can also be worn appropriately, patent leather shoes are the more formal choice. To complete the formal appearance, the shoes should be spotless and polished and worn with flashes and kilt hose.