Do you know a woman who wants to wear a kilt but is unsure what style to choose? Don't look elsewhere! This post will examine a variety of style advice and recommendations to assist you in creating great looks with the Scottish kilt. We have everything you need if you want to commemorate Scottish heritage and culture or are attending a specific festival. Let's go right into women in kilts! A kilt is not just for males to wear.
The elegance and grace of this traditional Scottish clothing are accessible to women as well. But to seem exquisite, you must consider several factors, such as the type of kilt you wear, the proper apparel, shoes, and other accessories. This manual will help you create stylish clothing that matches your style and the situation.
Selection of The Right Kilt
It's crucial to consider the length, fabric, and style while choosing a kilt. Select a size that sits neutrally between your legs and accentuates your figure. Although tartan kilts are popular, you can also consider different designs and colored kilts in solid colors for a more modern look. Additionally, consider the texture and quality of the cloth before selecting the one that drapes effectively.
Matching The Kilt Accessories
Depending on the occasion, you may pair your kilt with several clothing for the right look. Choose plain t-shirts or a fitted shirt to create a casual but relaxed vibe. Consider using a tailored jacket or a formal shirt to spruce up your ensemble for a formal function. The simple dress must be balanced with a visually stunning top matching the entire look.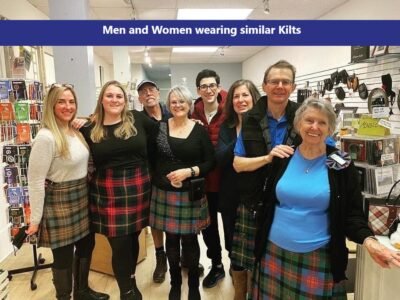 Matching and Stylish Footwear
The appropriate shoes can significantly alter how your kilt appears as a whole. Traditional Ghillie brogues and Mary Jane shoes are excellent choices to project a timeless and elegant presence. Try platforms, ankle boots, and sneakers for a more contemporary style. To create a coordinated look, combine the color and style of your shoes with the rest of your clothing.
Accessorizing Your Kilt Outfit
The right accessories can make or break an outfit, and kilts are no exception. Add a belt to draw attention to your waist and define your look. Shawls, scarves, and capes could also be a nice touch, especially in the winter when temperatures are colder. Remember to experiment with jewelry, such as necklaces, earrings, and brooches, to add a sense of individuality.
Choosing Kilt According To Season
The selection of fabrics and the layering technique are essential for adjusting your kilt to the changing seasons. Use breathable fabrics and light, such as linen or cotton, when warmer. You can pair your kilts with a loose-fitting or flowing top to stay cool. Pick more substantial fabrics, such as wool or tweed, when it gets colder. Layer the outfit with warm coats and knits.
Mixing and Matching Patterns
Feel free to combine designs and match them with your kilt if you are searching for a challenge. When combined correctly, stripes, florals, plaids, and animal patterns can work well together. Choose a perfect design to be matched with subtle, lesser patterns to avoid overwhelming the ensemble. The capacity to play with patterns may result in intriguing and alluring styles.
Kilt Outfits for Different Occasions
Kilts are excellent for any situation, including formal and informal parties. You may wear it casually with jeans or a chambray t-shirt for a day out to achieve a relaxed but fashionable look. Attending a wedding or other formal gathering? Wear a more exquisite shirt, tailored jacket, and elegant accessories to create a smart ensemble.
Hairstyles to Complement a Kilt
When wearing a kilt, hairstyles greatly enhance one's image. Consider an elegant hairdo or a half-up, half-down style to complete that classic look. The gentle curls and waves create a romantic, feminine vibe. Choose sloppy hairstyles or loose braids if you want an informal appearance. Try out many looks to find the one that best complements your face's features and personal style.
Maintaining and Cleaning Your Kilt
Follow the correct cleaning and maintenance instructions to keep your kilt in good condition. Make sure to adhere to the instructions provided by the manufacturer or retailer. The majority of kilts must be carefully hand- or dry-washed. Avoid using abrasive cleaners and machines since they may damage the fabric and alter the contour of the kilt.
Wear Kilt As A Royal Dress
A kilt dress symbolizes self-assurance and showcasing one's individuality. Wear your kilt with pride and the appearance with assurance. To appear more appealing, make sure you keep a good posture. Thank people for their compliments, and take the opportunity to explain the significance of wearing a kilt to others.
Cultural Diversity
Kilts have Scottish roots, but people from other cultures can also wear and enjoy them. Feel free to incorporate cultural features into the kilt you wear. Investigate various fashions, materials, and colors that reflect your cultural identity. Recognizing cultural variety may be an excellent way to promote inclusion and demonstrate the unity of all people.
Fashion Industry
Famous and stylish people have regularly adopted the adaptability of kilts as part of their wardrobe. Take a cue from their style choices and modify them to suit your preferences. Check on the websites of fashion magazines or social media platforms for ideas on creating distinctive and current kilt ensembles.
Playing around Colors
Modern kilts come in various colors, but traditional kilts frequently have distinctive tartan patterns. Try different color combinations to complement your skin tone and sense of style. From vivid hues to earthy tones, Everybody can wear a kilt in various colors. Try bold and unpredictable color combinations; don't be afraid to step outside your comfort zone.
Conclusion
The female kilt can be worn in various ways, bringing us to our next point. You can create amazing costumes for any occasion if you choose the ideal kilt, match it with the right shoes and tops, thoughtfully arrange your accessories, and pay attention to the seasons. Be yourself, experiment with various looks, and take pleasure in the kilts you wear. Being self-assured is necessary for wearing every piece of clothing with grace and elegance.
FAQs
What can I do to style the kilt I am wearing for a casual evening out?
Wear the kilt with a basic shirt, a chambray, or a denim jacket if you want to go out for a casual evening. Ensure you wear comfortable shoes, such as sneakers or ankle boots.
Can I use my kilt to mix and match other patterns?
Your wedding kilt can be made by fusing many patterns. However, to maintain unity, you must blend patterns in a balanced way, choose the dominant one, and blend in minor, undetectable patterns.
What extras can I add to my kilt outfit?
Add a belt, scarf, cap, shawl, or other accessory to your kilt for a fashionable finishing touch. Try on several jewelry items, such as necklaces, earrings, or brooches, to develop your distinctive look.
What can I do to keep the cleanliness of my kilt?
Make sure to adhere to the retailer's or company's maintenance guidelines. The majority of kilts require light hand washing or dry cleaning. To protect the quality of the cloth, avoid using harsh detergents and washing processes.
Do I have to wear a kilt for an official event?
Absolutely! Kilts are appropriate for formal occasions, especially with a cultural or theme-related connection. Wear your kilt with formal tops, jackets, and accessories to create an attractive look.