Where to buy kilts in USA
At Scottish Attire, we understand the allure of kilts and the importance of finding the one that resonates with your identity and heritage. Whether you're in Toledo, Ohio, or anywhere else in the United States, this guide is your compass, helping you navigate the intricate world of kilts and ensuring your kilt purchase is a memorable and seamless experience.
Kilts, originally hailing from the rugged landscapes of Scotland, have transcended their geographical and cultural boundaries. They are now cherished worldwide, admired for their history and the stories they tell. Each pleat and tartan weave bears a connection to a rich Scottish heritage, a symbol of tradition and individuality, and a statement of personal style.
In this comprehensive guide, we'll explore the various avenues available to you when searching for that perfect kilt. From buying kilts online to visiting local kilt stores, we've got you covered. We'll also provide you with essential information on measuring, choosing the right style, and accessorizing your kilt, ensuring your journey to kilt ownership is a successful one.
At Scottish Attire, we are not only passionate about kilts but also committed to delivering quality and authenticity. Our store, located at 5923 Blossman Rd #6, Toledo, Ohio 43617, United States, offers a diverse range of traditional and contemporary kilts that cater to every taste and occasion. We invite you to join us on this journey of discovery, both online and in-store, as we celebrate the tradition, culture, and style embodied by kilts.
How to Buy a Kilt
Buying a kilt is a unique and exciting experience, but it's essential to approach it with careful consideration. Here's a detailed guide on how to purchase the perfect kilt, whether you're a seasoned kilt-wearer or a first-timer.
1. Determine the Type of Kilt:
The first step in buying a kilt is deciding what type you want. Traditional kilts, utility kilts, and contemporary kilts each have distinct styles and uses. Think about the occasion and your personal preferences when making this choice.
2. Accurate Measurements:
To ensure a comfortable fit, you need accurate measurements. You'll need measurements for your waist, hips, and length. It's advisable to ask for professional assistance, but if measuring at home, be precise to avoid any discomfort later.
3. Material and Fabric:
Kilts come in various materials, including wool, cotton, and synthetic blends. The material you choose can significantly affect the comfort and appearance of your kilt. For formal events or a traditional look, opt for a wool kilt. For more casual occasions, a cotton kilt may be preferable. Ensure the fabric is of high quality and comfortable to wear for extended periods.
4. Design and Style:
The design of your kilt, including the tartan pattern and pleating, is an essential aspect of your choice. Consider the occasion for which you're buying the kilt. If you have Scottish heritage, you might opt for a tartan representing your clan. Traditional kilts often feature knife pleats, while contemporary kilts offer different pleating options. Choose a style that resonates with your taste and the event's formality.
5. Accessories:
A kilt is more than just a piece of clothing; it's a complete outfit. Accessories like a sporran, belt, kilt pin, and hose (socks) are integral to your kilt ensemble. These accessories can enhance the overall look and add a personal touch.
6. Customization:
Many kilt retailers offer customization options, allowing you to add unique details to your kilt. This could include embroidery, special pockets, or unique buckles. If you have specific preferences, inquire about customization possibilities when making your purchase.
7. Quality and Reputation:
Ensure you buy your kilt from a reputable source. Read reviews, ask for recommendations, and research the reputation of the kilt maker or store. High-quality kilts will not only look better but will also be more comfortable and durable.
8. Budget:
Determine your budget before shopping for a kilt. Kilts can vary widely in price, so having a clear budget in mind will help you narrow down your options. Remember that quality often comes at a higher price, but it's an investment in a garment that can last a lifetime.
9. Fitting and Alterations:
When you receive your kilt, try it on to ensure it fits perfectly. Some adjustments may be necessary, especially if you've undergone weight changes. Many retailers offer fitting services or can recommend local tailors who specialize in kilt alterations.
10. Care and Maintenance:
Kilts, especially those made of wool, require special care to maintain their quality. Be sure to follow care instructions provided by the retailer. This typically includes dry cleaning or gentle hand washing.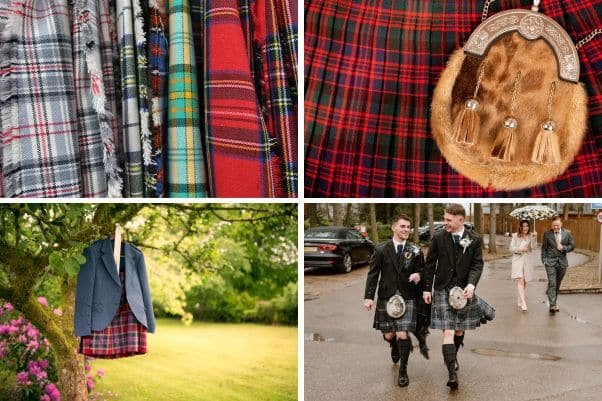 Why Choose Us
When it comes to selecting the perfect kilt, it's essential to choose a retailer that stands out from the rest. At our online store, we pride ourselves on being the ultimate destination for all your kilt needs. Here are several compelling reasons why you should choose us as your go-to kilt provider:
1. Wide Selection of Kilts:
We offer a diverse range of kilts, catering to both traditional and contemporary tastes. Whether you're looking for a classic tartan kilt to honor your heritage or a modern utility kilt for everyday wear, we have options to suit every preference.
2. Expertise and Craftsmanship:
We're not just a kilt store; we're kilt makers. Our team consists of skilled craftsmen with years of experience in creating high-quality kilts. Each kilt is meticulously crafted, ensuring that you receive a garment that is not only visually appealing but also comfortable to wear.
3. Online Ordering Convenience:
With the convenience of online shopping, you can easily order your kilt from the comfort of your own home. Our user-friendly website simplifies the ordering process, allowing you to customize your kilt to your liking.
4. Local Accessibility:
If you prefer a hands-on shopping experience, you'll be pleased to know that we have a physical store located in Toledo, Ohio. This makes it easy for those in the area to buy a kilt near them. Our address is 5923 Blossman Rd #6, Toledo, Ohio 43617, United States.
5. Customization Options:
We understand that each customer has unique preferences. That's why we offer various customization options to make your kilt truly your own. Whether it's personalized embroidery or special detailing, we can accommodate your requests.
6. Reputation and Trust:
Our commitment to quality and customer satisfaction has earned us a stellar reputation as USA kilt makers. We're dedicated to delivering kilts that not only meet but exceed your expectations.
7. Budget-Friendly Options:
We believe that everyone should have the opportunity to enjoy the beauty and tradition of a kilt. That's why we offer kilts at various price points, ensuring there's something for every budget.
8. Expert Advice:
If you're new to the world of kilts, we're here to provide expert guidance. Our team is more than happy to assist you in choosing the right kilt style, fabric, and accessories to suit your needs.
Choosing us means choosing quality, tradition, and a commitment to customer satisfaction. Whether you're seeking to order a kilt online or buy a kilt near you, we're the trusted source you can rely on for exceptional kilts that reflect the timeless charm of this iconic garment. Visit us online or at our Toledo store to experience the world of kilts like never before.
Discover the Perfect Kilt at Scottish Attire
Are you ready to embark on your kilt-buying journey? Look no further, as we has a wide selection of top-quality kilts and Scottish attire waiting for you. Whether you're a kilt connoisseur or a first-time buyer, we've got you covered.
Your Exclusive Offer
As a token of our appreciation for considering us for your kilt purchase, we're delighted to offer you an exclusive discount. Use the code "FOR YOU ONLY" at checkout to receive a 10% discount on your order. This is our way of saying thank you for choosing us